RAK International Corporate Centre (RAK ICC) Foundations are a corporate organization founded with a legal personality independent from that of its founder (s). The Foundation manages its resources and fulfills its objectives through the council.
Uses of RAK ICC Foundations
Improved progression planning and asset protection.
To offer a solid governance structure.
Guardian supervision.
A legally distinct personality that divides liabilities, keeps ownership of the assets and continues to exist long after the founder.
To hold assets.
Disburse operating company dividends.
Own shares in RAK ICC-related businesses.
Manage and hold the founder's assets for the benefit of the qualified recipients.
Hold and manage the founder's assets in favor of the eligible recipients.
Family-based charitable endeavors.
What is a Holding Company (Holdco)?
The holding company is known by (Holdco) is a business institution, considered as a corporation or LTD. The holding company doesn't produce anything or sell any products or services, or conduct any other business procedures. Holdco just depends on holding the control shares or making membership concerns in other corporations. Other subsidiary production companies it owns do produce or sell, or on the other hand, conduct business. Moreover, other subsidiaries hold equipment, vehicles, real estate, intellectual property, or any other thing that may use by operating companies.
What is a Holding Company Ownership (Holdco)?
The holding company (Holdco) may own all of the stock or membership interests required to control the subsidiary, or it may own less. Control indicates the possession of sufficient stock or membership interests to secure victory in an owner's vote. This can be 51% or, in cases with a large number of owners, a significantly lower percentage. Each subsidiary is handled daily by its own administration. The leadership of the holding company is in charge of directing the operations of the subsidiaries. So they have the power to choose and dismiss corporate directors. They may also decide to merge with another organization or dissolve. The decision-making processes for the operating companies are not influenced by those in charge decision-making company.
Why use a holding company (Holdco)?
Liability protection
Holding Companies are used for Separating functioning organizations from the resources they use creates a liability barrier. As a result, each subsidiary is responsible for paying its own debts. The assets of the controlling corporation or another subsidiary are inaccessible to a subsidiary's creditor.
As an illustration, the struggling horse farm owned by our entrepreneurs is unable to pay its instructor and vet. The assets of the subsidiary that holds the horse farm are undergoing a court order, nevertheless, those of the holding corporation, the subsidiary that conducts the restaurant, as well as the subsidiary that owns the apartment complex are not.
Control assets for less money
A holding company in RAK ICC must exercise control over its affiliates, but it is not required to own all of the stock or membership interests in them. This makes it possible for the holding company to take over another business and its assets for less money than if it had bought out all of the subsidiary's ownership interests.
Minimize debt financing costs
Specifically, when the firm in need of money is a startup or other enterprise considered a credit threat, a holding company with strong financial standing can frequently secure loans with a lower interest rate than its running subsidiaries might. The controlling corporation can then get the loan and give the money to the subsidiary.
Encourage innovation
Investments in start-ups and other hazardous initiatives are less dangerous since functioning corporations are independent legal entities. For instance, one of the reasons given for a big worldwide corporation's restructuring and creation of a new organization as its holding company which the stakeholders were worried about the threats associated with investments in non-core industries (medical research, life sciences, robotics). These investments were cut off from their main, lucrative functions through reorganization.
Daily management is not required
A holding company may be the owner of businesses engaged in a variety of unconnected industries. Even if the owners and managers of the holding company are unfamiliar with those businesses, it is irrelevant since each subsidiary has its administration to oversee day-to-day operations.
Why you would be establishing a Holdco?
The client can get a number of advantages by creating a RAK ICC business for owning real estate of "the "RAK ICC Holdco". Some of the key benefits of a RAK ICC Holdco are listed below
lessen the client's personal exposure to the dangers and obligations that come with investing in real estate;
Isolating revenue from a particular property or properties, minimizing bookkeeping and taxes.
decrease the amount of any deducting taxes on earnings and capital gains that are actually being collected;
The ease of transferring the shares after the property is sold;
Organizing the assets via a RAK ICC Holdco will lower inheritance taxes.
The possibility to open a domestic or foreign bank account for the RAK ICC Holdco in order to obtain rental income or to organize the administration of real estate fees as well as payments to any property managers.
For request our services please contact our company Bait Aljouda Consultation and Training To start business in UAE bact.ae
Why to Appoint RAK ICC agent in UAE
The size and credibility of RAK ICC, a register that complies with international standards, are expanding. More and more global firms are turning to RAK ICC for their worldwide expansion and growth for a variety of reasons, among them the advantages listed above. Be a part of the many worldwide businesses moving to RAK ICC from other jurisdictions!
Our licence as RAK ICC agent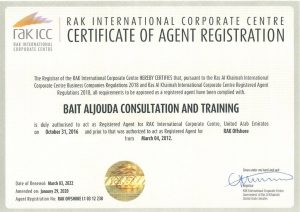 BACT is the top-class Dubai-based RAK ICC Agent and Business Setup Consultant in UAE with strong business networks in all GCC countries and Europe. BACT provides all business services and consultations for the business set-up or your business. Such as (Consultations and Advices, Business recommendations, Business planning, Brand Protection, Infringement protection, UAE representative, Bank account assistant, Business support…).
For more information visit our Business Consultations  or Company Formation in UAE, visit bact.ae