Trademark
In order to achieve the business goals, the brand needs to be protected in business and commercial market. A brand can be protected through trademark protection, industrial design, copyright and related rights, but in practice it is most often trademark protection. A trademark is an exclusive right recognized for a mark that serves to distinguish the products and / or services of one person from other persons in commercial transactions. A trademark may be used to protect a name, logo, emblem, label or other distinctive features of a product / service. The trademark guarantees the owner the exclusive right to place on the market the products / services marked with it. Trademark protection is an effective market tool by which manufacturers and service providers protect the funds they have invested in the promotion and marketing of their products / services. The trademark must individualize the products / services, i.e. enable them to be distinguished on the market from others of the same or similar type. Therefore, it will not be possible to register characters that cannot be graphically represented, have no distinctive character, are common in everyday speech, serve to describe some properties (types, quantities, qualities, geographical origin, etc.) or are misleading.
Trademarking Products & Services in Import/Export Business Market
Your brand is your image and reflection that differentiates you from your business competitors. It identifies your idea, product, your service, your company, your entire business. When a customer recognizes your product easily, trusts it and is loyal to it, that's what a brand is. In an highly competitive trade market, a strong brand is the best way to stand out. It plays a main role in your marketing and business strategy. Its deeply connected with customer loyalty and customers and market evaluation. It may become your strongest asset:easier identification of the position of products or services on the business market ,control of the financial value of the brand , increase in the total value of assets, reduction of promotion costs ,protection against competitive attacks , loyal customers ,reduction of business risk and promotion costs ,competitive advantage ,attract business investors and costumers, recognition and credibility in business market.
The Influence of Brand Strength on Consumer Loyalty
Today, the brand is becoming an increasingly important value criterion for selection product. A huge number of products in the modern world are chosen on the basis of brand. The brand actually provides added value for consumers which is most reflected through the emotional component and is very useful marketing a tool by which a company can achieve a competitive business advantage and improve its own market position by achieving a higher market share. It is relatively easy to copy the product and / or service, while copying a brand is extremely difficult, almost impossible. The very strength of the brand is reflected in a practical example in which traders, distributors and other intermediaries between companies and consumers, simply have to have certain strong brands on their shelves trade and in its offer. A strong brand is a kind of brand protection from everything more represented trademarks, but also defense against smaller, newly created brands. A strong brand has a greater chance of achieving long-term success if it encourages loyalty. Brand loyalty means that when the customer comes to buy products and / or services that meet the same needs, bearing in mind the positive experience and brand quality
likely to buy the same brand of products and/or services, regardless of changes in business market circumstances,
that is, the marketing efforts of business competitors offering the same category of products and / or services. Trademarks are also used as a way of protecting consumers. When businesses are responsible for any products or services bearing their trademark, they tend to take more pride in products. To maintain a good reputation, trademarked companies will often work harder to provide quality services and products.
Benefits of Trademarking Products and Services
You will enjoy the following main benefits by registering your trademark:
Protect your business identity
Confirms your product/service quality
Protect you against others using the same or similar marks
Protects your reputation in business and commercial market
Increase your profit and customer loyalty
It's a valuable asset: it can be licensed, franchised or sold
Our Trademark Expertise
Assisting throughout the trademark process of registration and protection
Managing responding to office actions and notes
Managing modules of oppositions, cancellation actions, litigation and other dispute matters referring to the trademarks usage
Managing Negotiation and objection to opposition and any third party
Anti-counterfeiting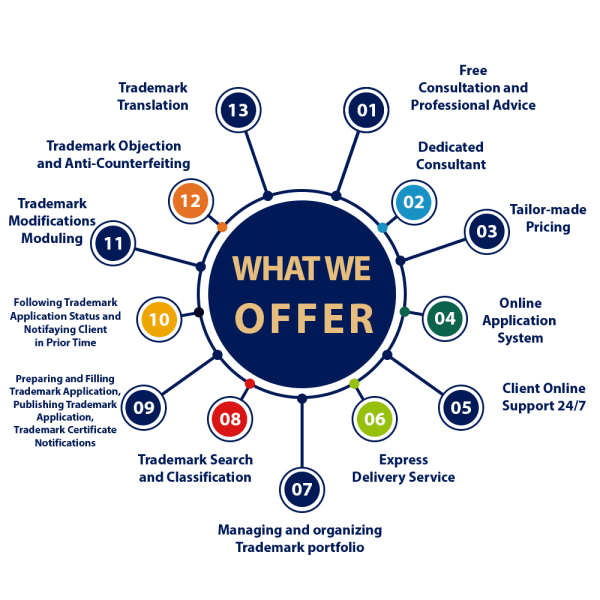 Need Help?
Contact us at the consulting office or feel free to submit a business inquiry online.