Ras Al Khaimah International Corporate Centre (RACK ICC) is the best and most convenient place to start your new IBC.  RAK ICC consider a global forum for new IBC as well as a starting point for new businesses. What makes it more challenging is the benefits provided by jurisdictions but it's hard to differentiate between the benefits without having a deep analysis of the issues involved.
We have here the outlines of what the advantages of Ras Al Khaimah International Corporate Centre IBC RAK ICC
Ownership and Management
No limitations on the international ownership of shares of IBCs, because anyone can own 100℅ IBC shares with RAK ICC.
No requirement is needed for a UAE national to own any shares in any company in UAE with RAK ICC. Additionally, this asserts that you are fully controlled of the affairs of your business or company. That makes you avoid all potential legal or practical challenges which may encounter you.
Now, RAK ICC has registered over 30000 companies and businesses with stakeholders from more than 160 countries.
RAK ICC grants the freedom to stakeholders on the following issues
Number of stakeholders
Category of shares issued includes, shares, bonus, and fully partly, or unpaid shares.
Capability to register share pledge
Capability to appoint company directors
No ratification is required for company documents
The above factors grant full ownership and management control to the stakeholders of IBC.
Flexibility and Bank Accounts
No minimum deposit paid up capital is required by the shareholders to the bank account to combine the company. The shareholders are not restricted in any movement of their capital because there are no limitations on these corporations on repatriation of capital as well as the profits.
IBCs currently encounter a significant obstacle when trying to open corporate bank accounts. The excellent reputation of the UAE benefits RAK ICC corporations, making it simpler for these IBCs to create local corporate accounts in the UAE and in many other nations across the world.
The aforementioned elements are crucial for practically operating any firm with complete freedom and taking full control of cash and profits.
Additionally, as your customer would already be regarded as a UAE corporation, no significant attestation of corporate documents is necessary for foreign businesses. Additionally, there are no limitations on bringing money and profits home.
Eventually, if your customer wishes to conduct operations domestically, they can work with RAK ICC to set up a subsidiary in the Ras Al Khaimah Economic Zone (RAKEZ), where operating expenses are frequently 50% cheaper than those in Dubai.
Security and Legal Regime
The jurisdiction provides a world-class business environment for shareholders. UAE has a highly wide reputation Internationally when it comes to smooth of doing business.
The legal authority gives further convenience to the stakeholders as RAK ICC regulates under mutually law legislation. Otherwise, IBCs have an access to the mutual law courts of the Abu Dhabi Global Markets (ADGM) and Dubai International Financial Centre (DIFC) and they manage all disputes and meet it into resolution because having International recognition with resolution of disputes. These considered as strong common law depend on the assurance of the courts that is easier for the stakeholders to dissolve their efficiently pattern.
Cost Savings and Taxation
IBC with RAK ICC is mostly cost-effective than many other offshore jurisdictions around the world. The annually cost for maintenance of these businesses is also one of the lowest around the world. In addition, no requirements are needed to have an office space as each corporation utilize the address of registered agent.
The businesses in RAK ICC have access to the UAE's extensive network of double taxation treaty networks. Over than 200 tax agreements, such as 123 agreements to prevent double taxation plus 87 agreements to protect investments, have been struck by the UAE. This alone is a major factor in the tremendous interest in starting a RAK ICC business.
The RAK ICC businesses provide the aforementioned savings at every stage, from incorporation to the end of the business's existence.
Carry-Out Business in the UAE
These businesses also give shareholders the option to conduct any business operations within the United Arab Emirates by establishing a subsidiary company in the Ras Al Khaimah Economic Zone (RAKEZ). Anyone wishing to conduct local and internationally business activities in the UAE can benefit significantly from this structure, which is offered by RAK ICC as a premium offering.
These advantages result in a big interest by investors/stakeholders to combine their corporations with RAK ICC. Since in Zone is a registered agent with RAK ICC, the combination and continuing maintenance of the IBCs are handled smoothly.
For request our services please contact our company Bait Aljouda Consultation and Training To start RAK ICC business in UAE bact.ae
Why to Appoint RAK ICC agent in UAE
The size and credibility of RAK ICC, a register that complies with international standards, are expanding. More and more global firms are turning to RAK ICC for their worldwide expansion and growth for a variety of reasons, among them the advantages listed above. Be a part of the many worldwide businesses moving to RAK ICC from other jurisdictions!
Our licence as RAK ICC agent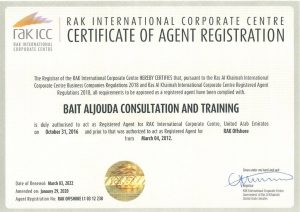 BACT is the top-class Dubai-based RAK ICC Agent and Business Setup Consultant in UAE with strong business networks in all GCC countries and Europe. BACT provides all business services and consultations for the business set-up or your business. Such as (Consultations and Advices, Business recommendations, Business planning, Brand Protection, Infringement protection, UAE representative, Bank account assistant, Business support…).
For more information visit our Business Consultations  or Company Formation in UAE, visit bact.ae