Trademark Class 42 consists of Scientific and technological services related to research and design, industrial analysis and research services, design and development of computer software & hardware.
It basically includes services rendered by any person for Trademark Registration related to theoretical as well as practical aspects of complex fields of activities.
For Trademark registration or Trademark protection in UAE, visit bact.ae
Types of goods come under Trademark Class 42 
The Services offered by Scientists and Engineers who undertake Estimates, Evaluations, Research and Reports in the Technological and Scientific fields (comprising of technological consultancy);
Scientific Research Services used for Medical purposes;
Testing, Authentication and Quality control services;
Types of goods that do not come under Trademark Class 42 
Business Research and Evaluations Services under the Trademark Class 35;
Computer File Management Services under the Trademark Class 35;
Word Processing Services under the Trademark Class 35;
Financial and Fiscal Evaluations Services under the Trademark Class 36;
Mining and Oil extraction Services under the Trademark Class 37;
Computer (hardware) Installation under the Trademark Class 37;
Computer Repair Services under the Trademark Class 37;
Services offered by the Members of Professions, such as Veterinary, Medical Doctors, Surgeons, Psychoanalysts under the Trademark Class 44;
Medical Treatment Services under the Trademark Class 44;
Garden Design under the Trademark Class 44;
Legal Services under the Trademark Class 45;
A complete listing of all the goods in Class 42:
analysis for oil-field exploitation
architectural services
architectural consultation
authenticating works of art
bacteriological research
biological research
calibration [measuring]
cartography services
chemical analysis
chemical research
chemistry services
clinical trials
cloud seeding
cloud computing
computer rental
computer programming
computer software design
rental of computer software
computer system analysis
computer system design
computer software consultancy
computer virus protection services
computer technology consultancy
construction drafting
consultancy in the design and development of computer hardware
consultancy in the field of energy-saving
conversion of data or documents from physical to electronic media
cosmetic research
creating and maintaining web sites for others
data conversion of computer programs and data [not physical conversion]
design of interior decor
digitization of documents [scanning]
dress designing
duplication of computer programs
electronic data storage
energy auditing
engineering
geological surveys
geological prospecting
geological research
graphic arts design
handwriting analysis [graphology]
hosting computer sites [web sites]
industrial design
information technology [IT] consultancy
providing information on computer technology and programming via a web site420201
installation of computer software
land surveying / land surveys
maintenance of computer software
mechanical research
meteorological information
monitoring of computer systems by remote access
off-site data backup
oil prospecting
oil-field surveys
oil-well testing
outsource service providers in the field of information technology
packaging design
physics [research]
quality control
quality evaluation of standing timber
quality evaluation of wool
recovery of computer data
research and development of new products for others
research in the field of environmental protection
provision of scientific information, advice and consultancy in relation to carbon offsetting
scientific laboratory services
scientific research
providing search engines for the internet
server hosting
software as a service [SaaS]
styling [industrial design]
surveying
technical research
technical project studies
technological consultancy
telecommunications technology consultancy
material testing
textile testing
underwater exploration
updating of computer software
urban planning
vehicle roadworthiness testing
water analysis
weather forecasting
rental of web servers
web site design consultancy
Related Classes 
Legal & Security Services (Trademark Class 45);
Medical & Veterinary Services (Trademark Class 44);
Food concerning Services (Trademark Class 43);
Education & Entertainment Services (Trademark Class 41);
Chemical Treatment of Material Services (Trademark Class 40);
Shipping & Travel Services (Trademark Class 39);
Telecommunications Services (Trademark Class 38);
Construction & Repair Services (Trademark Class 37);
Insurance & Finance Services (Trademark Class 36);
Advertising & Business Services (Trademark Class 35);
You must indicate the correct class at the time you are registering a trademark. If you list the incorrect class, you must start the application process over.
Why to appoint Trademark Agent in UAE?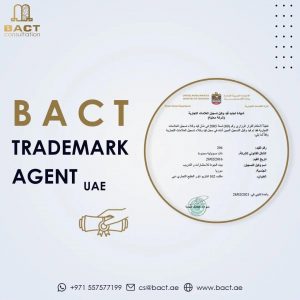 Speak to one of our experienced trademark attorneys to get started with your application today.
We recommend allowing an experienced attorney to manage the paperwork and deadlines when registering a trademark.
Registering a trademark in the UAE requires extensive knowledge of the Trademark laws in the UAE and knowledge of the Nice classification List to select the right trademark class under which trademark falls to satisfy and protect trademark applicant needs.
Trademark applicants should be engaged in application procedures established by the UAE Ministry of Economy to register the trademark successfully and to deal with all documents related to trademark registration and notifications to competent authorities.
Furthermore, in addition to detailed knowledge of the law, the applicant needs to know Arabic because when filling initial trademark applications, the form must be completed in English and Arabic, also the brand logo and trademark meaning should be approached bilingually. Properly filling application is time and cost-effective condition to be followed by the applicant.
Appointing the trademark agent in UAE has other benefits for not only helping businesses to register their trademarks in the UAE but also advising businesses on how to protect brands from their competitors and counterfeit products in the UAE market.
The role of trademark agents in registering the trademarks is necessary as in the UAE is mandatory for foreign businesses to appoint a trademark agent. perhaps one of the most important items in the protection of his brand that the applicant cannot do alone because he is not sufficiently informed and thus risks missing the complaint process against a third party.
Our trademark consultant will help you search for and classify the goods and/or services you need to apply to register your Trademark.
To appoint trademark agent in UAE visit bact.ae
BACT is the top-class Dubai based Trademark Agent and Business Setup Consultant in UAE with strong business networks in all GCC countries and Europe.
A modern business environment, quick, high-speed, online professional services create perfect business clime to meet every aspect of our service requirements. Our team counts talented professionals across companies' main business lines namely Trademarking, Copyright, Anti-Counterfeiting, Company Formation, Business Consultation, Agreements, Education and Training advancing our presence locally and internationally in the last 10 years.
We offer trademark services listed below
✔Trademark Search
✔Trademark Monitoring
✔Trademark Registration
✔Trademark International Registration
✔Trademark Renewal
✔Trademark Cancellation
✔Trademark Mortgage
✔Trademark Modification
✔Trademark Agent Change
✔Trademark Ownership Transition
✔Trademark Ownership Modification
✔Trademark  Logo Modification
✔Trademark Products Modification
✔Trademark Objection & Grievance
✔Trademark Document Services
For more information about international trademark services please visit  bact.ae
Our Contacts:
Phone+97144470880
Fax: +97144470881
Mob: +971557577199
Web: bact.ae