The number of women entrepreneurs is rising sharply around the world. Women from all walks of life are breaking into traditionally male-dominated corporate sectors. Women now became women entrepreneur setting up looking for involving in entrepreneurial business and setting up a business of their own. In the UAE, more and more women are choosing the route of entrepreneurship during the past few decades. These self-made women have distinguished themselves in a variety of business areas thanks to the UAE's supportive business environment for women, Tashas Group, Mumz World and Huda Beauty are a few notable instances of successful businesses owned and operated by women.
Women in the UAE have always been granted the same legal rights as men in the areas of professional activity, property inheritance, health and education. A woman who wants to start her own business might also consider moving to the UAE, which consistently ranks highly for female safety.
According to women make up 44% of the workforce and almost 70% of university graduates in the United Arab Emirates. These figures demonstrate the importance of women to the UAE's economic future. There have never been better chances for women to start up businesses in the UAE thanks to a rise in startup support groups for women business owners and increasing funding for new ventures. Here are the top 5 reasons why women entrepreneurs should think about pursuing their business goals in the UAE.
1.Entrepreneurs Environment That Supports Gender Equality
• The business community in the UAE is dedicated to promoting equality in the workplace. It acknowledges gender equality to a higher extent than any other nation in the MENA area.
• Programs to explicitly address gender equality in the workplace are being led by the UAE government. In 2017, it made a $50 million donation to the Women Entrepreneurs Finance Initiative fund, which helped to close a 64% gender gap in the UAE workforce.
• By 2021, the UAE government hopes to rank among the top 25 nations in the world for gender equality, which is one of its stated sustainable development goals.
2. Several Government Initiatives
• No matter where they are from, female company owners in the UAE today have a wide range of opportunities at their disposal. They feel free to setup their entrepreneur ideas.
• The UAE government has started several initiatives to help female business entrepreneurs succeed in their businesses. These initiatives include:
• The Dubai Business Women Council (DBWC), a non-profit organisation that helps UAE-based businesswomen realize their business ideas by offering education, finance, and training opportunities.
• The Abu Dhabi Business Women Council (ADBWC)'s Women's Business Incubator that is Integrated and Innovative to caters new entrepreneurship business ideas. This incubator assists women specify their latent efficient potential and convert ideas into beneficial projects and setting up a business from their entrepreneur idea. It offers guidance, advice, technical support and even some funding.
• The Dubai Women Establishment (DWE), a well-established program that annually holds the Women Leadership Exchange Program to offer advice on sustainable leadership techniques and excellent networking chances to increase the entrepreneur start-up.
3. Assistance Through Private Company Partnerships:
• Private businesses frequently collaborate with charity and government organizations in the UAE to give in-depth training and more funding to women entrepreneurs from setting up a business for their own.
• The Summit on Women Entrepreneurs A strategic platform called MENA is intended for female business owners in the Middle East and North Africa region.
• Women is a media company that creates content on female founders and serves as a network and incubator for female entrepreneurs. Momentum, Women's early-stage incubator program for start-ups developed by women, was introduced in March 2018.
• Women in the UAE can receive business training through the Cherie Blair Foundation for Women's cooperation with the JPMorgan Chase Foundation.
• ME, a developmental consultancy with offices in Dubai, organizes the Women-able annual entrepreneurship program to support female-led SMEs. It focuses on fostering confidence and practical business and entrepreneurial abilities.
• The social media giant Facebook, with support from Emirates Foundation and BACT Consultations, has launched BACT for Education and Training to train and facilitate thousands of UAE women entrepreneurs on setup a business of their own online.
•  The Khalifa Fund is dedicated to supporting UAE women business owners by acquiring funding, offering legal support, and other procedural assistance. Through its numerous initiatives that address diverse financing requirements, women can apply for funding.
4. Options for Women to Return to Work Following Childbirth:
• In the UAE, free zones are the ideal location to setup a business.
• Simplified setup procedures, adaptable offices and Flexi workstations, and one-stop access to government services are all features of free zones.
5. Options for Women to Return to Work Following Childbirth:
• Businesses in the UAE are creating technology-based solutions to make it simple for women to return to work after giving birth. For instance, the Dubai-based employment firm Hopscotch offers training and skill-building workshops for women via its online platform. Through its network and efforts, the company also offers possibilities to women at all professional phases.
• Creating a welcoming workplace where everyone is accepted regardless of personal obligations has boosted the economy of the UAE and inspired more women to setting up a business of their own.
6. RAKEZ Business Women Package
Along with the government, various free zones have undertaken steps to support women business owners, and most recently, the UAE has introduced specific packages designed just for them. The RAKEZ (Ras Al Khaimah Economic Zone) BusinessWomen package stands out as the one with the greatest advantages for women of all of these. The package has been created to give female businesses the finest benefits.
There are as many as eight (8) distinct licensing options available in the BusinessWomen package:
• Professional
• General Trading
• Commercial
• Educational
• E-Commerce
• Media
• Individual
• Services
7. Advantages of RAKEZ BusinessWomen Package
The BusinessWomen Package offers certain alluring advantages to female business owners only.
8. Affordable Pricing
Women company owners and entrepreneurs can obtain their trade license for a reasonable cost through the BusinessWomen package. Additionally, they benefit from a 25% discount on dependent and employee visas.
9. Payment in Installments
There are two plans for the BusinessWomen package: one year and three years. These programs accept instalment payments as opposed to full payment up front.
10. Eligibility for Zero-Balance Bank Account
The exclusive feature of creating a zero-balance business account with RAKBANK is available only to women business owners.
11. Priority Service
The One Stop Shop (OSS) Centers of RAKEZ will give priority treatment to service requests from those who choose the BusinessWomen Package.
12. Ras Al Khaimah offers special advantages:
Residents of Ras Al Khaimah are qualified for a 10% payback with the RAKEZ BusinessWomen package (T&Cs Apply).
Why to Appoint RAK ICC agent in UAE
The size and credibility of RAK ICC, a register that complies with international standards, are expanding. More and more global firms are turning to RAK ICC for their worldwide expansion and growth for a variety of reasons, among them the advantages listed above. Be a part of the many worldwide businesses moving to RAK ICC from other jurisdictions!
Our license as RAK ICC agent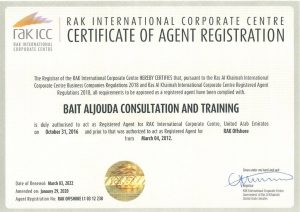 More and more women are increasingly flocking to the UAE to establish their enterprises across a range of industries thanks to the simple access to finance choices, coaching possibilities, and business networks.
BACT CONSULTATIONS FREE ZONE offers a wide variety of choices and a greater level of assistance to both Emirati as well as ex-pat women entrepreneurs. For this reason, many women establish their enterprises with BACT rather than companies.
For more information visit our Business Consultations  or Company Formation in UAE, visit bact.ae
Get in touch with the BACT-free zone authorities right away if you're a female entrepreneur wishing to establish your business in RAK-FREE ZONES.
Follow Us on Social Media
 LinkedIn
 Twitter
Instagram photos and videos