Offshore companies are businesses set up in Dubai to conduct business outside of the country in which they were legally established or where they had their primary office. Therefore, UAE offshore companies are unable to conduct business within the UAE.
Offshore companies and Dubai Freezones are frequently mistaken by those outside the United Arab Emirates. While a free zone is located inside a country but is subject to the local government's policies, which frequently offer less stringent regulations and duty exemptions, an offshore company is technically beyond that country's borders.
While Dubai freezones would assist Investors with residency status in the UAE, offshore companies do not give UAE residency visas for the owners.
1. Main benefits of the Ras al Khaimah Offshore Company
• Possibility of full ownership
Physical offices are not necessary.
• No taxation.
• In the UAE, there are no taxes for you to pay. Withholding taxes, social security taxes, corporation taxes, income taxes, and VAT are all eliminated. It will feel like a new breath of air.
• There are no reporting obligations, and annual accounts are published. Instead of dealing with an expensive annual audit like in most other countries, you do not need to invest time and money on it. Instead, concentrate on your own business.
• Strict discretion with respect to the legal entity. Public registers do not reveal the identities of shareholders, directors, or secretaries. When corporate or nominated directors, secretaries, or shareholders are used, an additional layer of confidentiality is added.
• In contrast to other offshore jurisdictions, the UAE offers you access to a strong global banking system with accounts in several different currencies. Additionally, there are banking choices in other countries. When you are confident that your money is safe and accessible, you can relax.
• No physical trip to the United Arab Emirates is necessary to establish a Ras al Khaimah (RAK) Offshore company. A visit is necessary if you want to open a local bank account. However, starting in 2021, we also collaborate with EMIs to provide local banking solutions with remote account opening.
• Benefit from robust asset protection. It is not necessary to contribute capital. In the UAE, freezing a bank account or bringing legal action against a RAK Offshore firm is quite challenging. This means that compared to the vast majority of nations around the world, your investments are significantly safer here.
• There is also a little-known fact about the RAK Offshore Company that sets it apart from ALL other offshore countries and gives your company an instant boost in credibility.
2. Locations for setting up an offshore business in UAE
While both of the main alternatives for setting up an offshore corporation in the UAE provide certain similarities, there are also some differences:
•International Corporate Center RAK (RAK ICC)
•Authority for the Jebel Ali Free Zone (JAFZA)
Only JAFZA has previously supported property ownership, but both of these offshore options potentially offer affordable fixes. Their services have matched the market competition. RAK provides a quicker setup and a marginally reduced price.
3. RAK Offshore Company Formation
One of the seven emirates that make up the Federation of the United Arab Emirates is Ras Al Khaimah (RAK) (UAE).
At the northernmost point of the United Arab Emirates, on the Arabian Gulf coast, is the emirate of Ras Al Khaimah (RAK). Only 50 minutes separate you from RAK International Airport and Dubai International Airport (DXB), respectively.
The emirate, often known as RAK, takes great pleasure in its longstanding shipbuilding and trade, and it leads the way in quarrying, manufacturing, and tourism.
Ras Al Khaimah (RAK) has progressively expanded and solidified its reputation as a desirable commercial center with a vibrant and varied economy. Wide-ranging commercial activity has been drawn in by financial incentives and low-cost business setups.
Additionally, for businesses wishing to relocate their operations from more conventional offshore alternatives, a RAK offshore company provides a quick and practical answer.
4. Resettlement advantages
• Due to rising regulatory concerns and demonstrating substance, traditional offshore countries are under pressure.
• The reputation concerns associated with traditional offshore solutions are rising.
• Critical requirement to satisfy economic substance requirements (ESR)
5. Greatest advantages
• Maintains current legal standing
• Capable of preserving banking and operational history
• Availability of common law courts (ADGM and DIFC English Common Law)
• Wills that are registered to protect the company's assets and stock
Our license as RAK ICC agent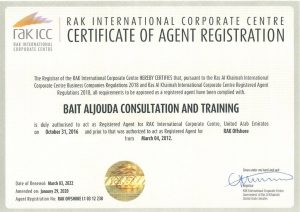 Offshore business setup with BACT CONSULTATIONS
RAK represents good solutions for an offshore company. But selecting one may be a bit confusing. If you're looking to set up a business in UAE, be confident to talk to our business setup consultants.
BACT can assist you with your intention of jurisdiction and manage the whole setup procedure on your behalf to meet your demand. Get Free Consultation and now more about our Company Formation services, such as "International Business Corporations, Holding Company HC and LLC Company and Free Zone Company."
Follow Us on Social Media
 LinkedIn
 Twitter
Instagram photos and videos
visit our website bact.ae