UAE is considered a contact point for brands and trademarks for expanding investment and protecting intellectual property for entrepreneurs through registration in UAE. UAE seeks to inspire and grasp businesses and entrepreneurs who are inspired to bring a business vision to our global market. As we know today all companies seek to expand their trademark by protecting it by registration in UAE.  According to Federal Decree-Law No. 36 of 2021, Trademark is a different form of names, signatures, figures, logos, words, titles, pictures, seals, hallmarks, or any other group of marks.
Trademark Application Requirements
Personal Information: Name, Number, Email, Nationality, legal nature.
Trademark details: Trademark information, including the following items: Trademark name, Trademark name translation in English and Arabic, Trademark type, Trademark class, mark description, class number, product explanation.
Entitlement to File: To be entitled to get UAE protection you must have the following in order to be eligible: a trademark logo, a copy of your business' trademark registration, a passport copy, and a complete home address. Priority documents, if any, Power of Attorney (notarized by the Notary Public & legalized by the UAE), Through the Ministry of Economy Link of local registration, a mark may be registered or a trademark request for protection may be submitted in the United Arab Emirates (UAE).
Steps:
Following steps are required to complete the process of trademark registration:
Trademark Search: initial step to be assure if there are any similarities with any other brands or trademark its undertaken in the process of trademark registration to avoid trademark rejection.
Initial pre-approval:Application filling and applying to the Trademark Office UAE Ministry of Economy.
Publishing:Trademark application will be issued in trademark official gazette UAE Ministry of Economy to validate if there is any complaint from the third party. Legally the opposition duration is 30 days after the issuing of trademark into the official gazette.
Certificate:The certificate will be issued if the third party doesn't object. For the payment of final registration fees, the Trademark Office does not send out any particular notifications. The last day of the opposition period is the date from which the final registration payments are due. Upon payment of the final registration fees, the Trademark Office issues the registration certificate. A trademark registration certificate is valid for a period of ten years beginning on the application date.
Status of International Trademark Application
When you apply for registration trademark in UAE and want to know your application statue, you must choose a highly qualified legal professional company such as (Bait Aljouda Consultation And Training).
To fill inquiry please visit bact.ae
Trademark Registration Fees:
For your information, the trademark registration fees in the UAE have been reduced through the trademark office UAE Ministry. It became as follows:
750 AED for Both Filling application & initial pre-approval & publishing in trademark journal
5000 AED for Certificate
Trademark Registration Renewal:
After the duration of trademark registration is expired you have to renew for another 10 years.
To fill inquiry please visit bact.ae
Trademark Certificate:
The certificate of trademark registration issued through the trademark department of UAE applied for the ministry rules decision number "50" in 2005 regarding recording regeneration agents, it has recorded the specified regeneration agent in the record of trademark registration agents.
Note: Trademark certificate renewal has to be after 10 years and has to be paid before the expiry date.
Why to Appoint trademark agent in UAE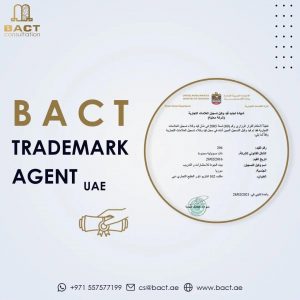 appoint our highly experienced consultants and attorneys to cover and manage all of your required paperwork and put you on the right path.
Protect your trademark in UAE through our services that enables holders registered in the Ministry of Economy UAE to apply electronically and request the registration of a trademark. Once a single request and payment of a single set of fees, you can appoint our agents to get protection and our various services.
We manage all of your business protection brand services required  (Business Identity Protection, Brand protection from using, Reputation Protection in The Market)
BACT is the top-class Dubai based Trademark Agent and Business Setup Consultant in UAE with strong business networks in all GCC countries and Europe.
To appoint trademark agent in UAE visit Trademark registration or Trademark protection in UAE, visit bact.ae
We offer trademark services listed below
√ Trademark Search
√ Trademark Monitoring
√ Trademark Registration
√ Trademark International Registration
√ Trademark Renewal
√ Trademark Cancellation
√ Trademark Mortgage
√ Trademark Modification
√ Trademark Agent Change
√ Trademark Ownership Transition
√ Trademark Ownership Modification
√ Trademark Logo Modification
√ Trademark Products Modification
√ Trademark Objection & Grievance
√ Trademark Document Services
For more information about international trademark services please visit  bact.ae
Our Contacts
Phone+97144470880
Fax: +97144470881
Mob: +971557577199
Email: cs@bact.ae
Web:  bact.ae