Trademark Class 35 deals with advertising and business services such as advertisement, business management, administration of business, consulting services and general office functions. This class mainly includes services rendered by any person or organization with the object of working & managing any commercial undertaking, management of any business affairs and management of commercial functions of industrial enterprises.
Types of goods come under Trademark Class 35 
Services that include the following are:
Registration;
Record;
Composition;
Collection; and
Systematization of several written communications;
Services relating to an advertising agency, such as the distribution of prospectus and brochure, either directly or by way of post. Also, it includes the distribution of advertisement samples.
Types of goods that do not come under Trademark Class 35
The primary activity or function of an enterprise is to sale goods, i.e., a commercial enterprise;
Services relating to evaluations and reports of engineers that do not exactly refer to the management of affairs and operations in a commercial or an industrial enterprise.
A complete listing of all the goods in Class 35 
administrative processing of purchase orders
advertising / publicity
advertising by mail order
rental of advertising time on communication media
rental of advertising space
production of advertising films
advertising agencies / publicity agencies
auctioneering
bill-posting / outdoor advertising
rental of billboards [advertising boards]
book-keeping / accounting
business management of reimbursement programmes for others / business management of reimbursement programs for others
providing business information via a web site
business research
business investigations
business appraisals
business information
business project management services for construction projects
business management for freelance service providers
business management of sports people
business management of performing artists
business management of hotels
business inquiries
business management assistance
business efficiency expert services
advisory services for business management
business organization consultancy
business management and organization consultancy
business management consultancy
professional business consultancy
business auditing
commercial information agencies
commercial intermediation services
provision of commercial and business contact information
commercial or industrial management assistance
commercial administration of the licensing of the goods and services of others
commercial information and advice for consumers [consumer advice shop]
compilation of statistics
compilation of information into computer databasescomputerized file management
cost price analysis
data search in computer files for others
demonstration of goods
design of advertising materials
direct mail advertising
dissemination of advertising matter
distribution of samples
document reproduction
drawing up of statements of accounts
economic forecasting
employment agencies
import-export agencies
invoicing
layout services for advertising purposes
provision of an on-line marketplace for buyers and sellers of goods and services
on-line advertising on a computer network
marketing studies
marketing research
marketing
modelling for advertising or sales promotion
negotiation and conclusion of commercial transactions for third parties
news clipping services
arranging newspaper subscriptions for others
office machines and equipment rental*
opinion polling
organization of fashion shows for promotional purposes
organization of trade fairs for commercial or advertising purposes
organization of exhibitions for commercial or advertising purposes
outsourced administrative management for companies
outsourcing services [business assistance]
pay per click advertising
payroll preparation
personnel management consultancy
personnel recruitment
rental of photocopying machines
photocopying services
presentation of goods on communication media, for retail purposes
price comparison services
procurement services for others [purchasing goods and services for other businesses]
psychological testing for the selection of personnel
public relations
publication of publicity texts
publicity material rental
radio advertising
relocation services for businesses
retail or wholesale services for pharmaceutical, veterinary and sanitary preparations and medical supplies
sales promotion for others
rental of sales stands
search engine optimization / search engine optimisation
secretarial services
shop window dressing
shorthand
sponsorship search
arranging subscriptions to telecommunication services for others
systemization of information into computer databases
tax filing services
tax preparation
telemarketing services
telephone answering for unavailable subscribers
television advertising
transcription of communications [office functions]
typing
updating and maintenance of data in computer databases
updating of advertising material
rental of vending machines
web site traffic optimization / web site traffic optimisation
word processing
writing of curriculum vitae for others / writing of résumés for others
writing of publicity texts
Related Classes
Legal and Security services under Trademark Class 45;
Medical and Veterinary services under Trademark Class 44;
Food related services under Trademark Class 43;
Science and Technology services under Trademark Class 42;
Education and Entertainment services under Trademark Class 41;
Material Treatment services under Trademark Class 40;
Shipping and Travel services under Trademark Class 39;
Telecommunications services under Trademark Class 38;
Construction and Repair services under Trademark Class 37;
Insurance and Finance services under Trademark Class 36;
You must indicate the correct class at the time you are registering a trademark. If you list the incorrect class, you must start the application process over.
Why to appoint Trademark Agent in UAE?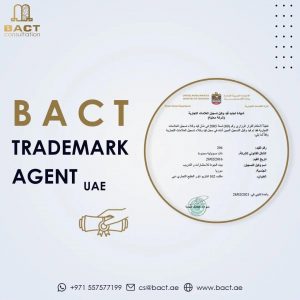 Speak to one of our experienced trademark attorneys to get started with your application today.
We recommend allowing an experienced attorney to manage the paperwork and deadlines when registering a trademark.
Registering a trademark in the UAE requires extensive knowledge of the Trademark laws in the UAE and knowledge of the Nice classification List to select the right trademark class under which trademark falls to satisfy and protect trademark applicant needs.
Trademark applicants should be engaged in application procedures established by the UAE Ministry of Economy to register the trademark successfully and to deal with all documents related to trademark registration and notifications to competent authorities.
Furthermore, in addition to detailed knowledge of the law, the applicant needs to know Arabic because when filling initial trademark applications, the form must be completed in English and Arabic, also the brand logo and trademark meaning should be approached bilingually. Properly filling application is time and cost-effective condition to be followed by the applicant.
Appointing the trademark agent in UAE has other benefits for not only helping businesses to register their trademarks in the UAE but also advising businesses on how to protect brands from their competitors and counterfeit products in the UAE market.
The role of trademark agents in registering the trademarks is necessary as in the UAE is mandatory for foreign businesses to appoint a trademark agent. perhaps one of the most important items in the protection of his brand that the applicant cannot do alone because he is not sufficiently informed and thus risks missing the complaint process against a third party.
Our trademark consultant will help you search for and classify the goods and/or services you need to apply to register your Trademark.
To appoint trademark agent in UAE visit bact.ae
BACT is the top-class Dubai based Trademark Agent and Business Setup Consultant in UAE with strong business networks in all GCC countries and Europe.
A modern business environment, quick, high-speed, online professional services create perfect business clime to meet every aspect of our service requirements. Our team counts talented professionals across companies' main business lines namely Trademarking, Copyright, Anti-Counterfeiting, Company Formation, Business Consultation, Agreements, Education and Training advancing our presence locally and internationally in the last 10 years. 
We offer trademark services listed below
✔Trademark Search
✔Trademark Monitoring
✔Trademark Registration
✔Trademark International Registration
✔Trademark Renewal
✔Trademark Cancellation
✔Trademark Mortgage
✔Trademark Modification
✔Trademark Agent Change
✔Trademark Ownership Transition
✔Trademark Ownership Modification
✔Trademark  Logo Modification
✔Trademark Products Modification
✔Trademark Objection & Grievance
✔Trademark Document Services
To appoint BACT as trademark agent in UAE visit bact.ae
Our Contacts
Phone+97144470880
Fax: +97144470881
Mob: +971557577199
Email: cs@bact.ae
Web: bact.ae