Ras Al Khaimah Free Trade Zone (RAK FTZ), which was founded in 2000, is a quickly expanding and extremely affordable free trade zone in the United Arab Emirates. Today, it is home to more than 12,000 businesses from more than 100 nations, spanning at least Fifty different economic sectors. It's a terrific area to live and do business in Ras Al Khaimah. Compared to other free zones in other emirates, RAK Free Zone offers a variety of incentives at cheaper prices.
Investors at Ras Al Khaimah Free Zone can take advantage of specialized support services. Because it is close to rapidly developing marketplaces in South East Asia, Africa, and Europe, Ras Al Khaimah is in a geo – strategic location and has a great setting for business setup. A one-hour trip separates RAK FTZ from Dubai. It is close to 5 seaports, notably Saqr Port, considered one of the biggest large ports in the area, and an international airport.
In order to provide excellent support, RAKEZ Business Zone is dedicated to enabling its customers and investments. RAkEZ Business Zone provide personalized packages and services, as well as cutting-edge facilities, with cost-efficient and top-notch economic solutions. RAKEZ business zone, because to its advantageous position, links investors to the expanding global markets.
Features Rakez Business Zone
RAK free trade zone on for business set-up offers 100% ownership
Free zone & non-free zone entity formation
Rapid and effective procedures for business setup
Capability to construct staff and accommodations on-site
Diverse industries, commercial buildings, and value-added services
A single point of contact for all services
Self-service platform for customers
Good access to key logistical centers and multilane super highways
Ras Al Khaimah's business environment provides simple accessibility through a global network of regional offices.
Gain simple market access across the North Africa, Middle East and Europe areas.
RAKEZ is divided into specified zones, RAZEZ Business Zone, Al Hamra Industrial Zone, Al Ghail Industrial Zone, Al Hulaila Industrial Zone, RAKEZ Academic Zone
The aforementioned zones serve a variety of industries, including academic institutions, academic consulting, industrial projects, manufacturing, trading, logistics, and other services.
Structuring of Business Operations in the Free Zones and Non- Free Zones
A corporation licensed in the RAKEZ free zone can organize its operations in one of the two ways listed below:
Locally licensed businesses or a branch of a foreign corporation.
In the capacity of a RAKEZ Free Zone Establishment (FZE), which has just one stakeholder.
The business operations in a RAKEZ business Non-Free Zone can be structured in either one of the following ways
Individual Formation: Single-proprietorship
Limited Liability Company (LLC) – up to 50 shareholders with two or more shareholders.
Fees required
If you will do your Free Zone Establishment FZE with Limited Liability Company (FZ-LLC) the minimum capital requirement will be at least AED 100,000. Though, it is not required to evidence the deposit of the capital amount.
Note: A non-free zone operation requires a UAE national partner.
In case it is a non-free zone corporation, then it should have enough capital to fulfill the established objectives and the capital will be divided equally in value. The council may make a decision that establishes the minimum capital of the corporation if a proposal is submitted by the minister along with the appropriate authorities.
For request our services please contact our company Bait Aljouda Consultation and Training To start business in UAE bact.ae
Why to Appoint RAK ICC agent in UAE
The size and credibility of RAK ICC, a register that complies with international standards, are expanding. More and more global firms are turning to RAK ICC for their worldwide expansion and growth for a variety of reasons, among them the advantages listed above. Be a part of the many worldwide businesses moving to RAK ICC from other jurisdictions!
Our licence as RAK ICC agent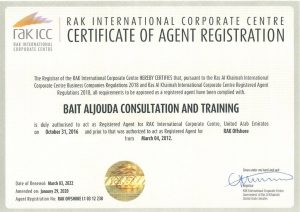 BACT is the top-class Dubai-based RAK ICC Agent and Business Setup Consultant in UAE with strong business networks in all GCC countries and Europe. BACT provides all business services and consultations for the business set-up or your business. Such as (Consultations and Advices, Business recommendations, Business planning, Brand Protection, Infringement protection, UAE representative, Bank account assistant, Business support…).
For more information visit our Business Consultations  or Company Formation in UAE, visit bact.ae