Trademark Class 39 includes services related to transport people, animals or goods from one place to another and services essentially connected with these transport & services related to the storing goods in a warehouse.
For Trademark registration or Trademark protection in UAE, visit bact.ae
Types of goods come under Trademark Class 39 
Services offered by companies using stations, rail-roads, bridges, rail-road, ferries, etc., used by transporter;
Services offered with respect to the hiring of transport vehicles;
Services relating to uploading, maritime tugs, the functioning of ports & docks, and the salvaging of the wrecked ships and their cargos;
Services related to the packaging and parcelling of goods prior to their dispatch;
Services providing information and details regarding journeys or the transportation of goods by tourist agencies and brokers,
Services providing relating to tariffs, timetables & methods of transport;
Services relating to the inspection of vehicles and goods before transport;
Types of goods that do not come under Trademark Class 39 
Services concerning advertising of transport and undertaking, such as advertisement on the radio, distribution of prospectus, etc.;
Services concerning the issuance of traveller's cheque/letters of credit by brokers /or travel agents;
Services concerning insurances, whether commercial, life, or fire, during the movement of goods and persons;
Services concerning repair and maintenance of vehicles;
Services concerning reservation of hotel rooms by travel agents or brokers
A complete listing of all the goods in Class 39
air transport
aircraft rental
rental of aircraft engines
ambulance transport
armored-car transport
barge transport
boat rental
boat transport
boat storage
booking of seats for travel
bottling services
bus transport
car rental
car transport
car parking
carting
chauffeur services
courier services [messages or merchandise]
arranging of cruises
delivery of goods
delivery of newspapers / newspaper delivery
delivery of goods by mail order
distribution of energy
rental of diving bells
rental of diving suits
providing driving directions for travel purposes
electricity distribution
escorting of travellers
ferry-boat transport
flower delivery
franking of mail
rental of freezers
freight [shipping of goods]
freight forwarding
freight brokerage [forwarding (Am.)] / freight brokerage
freighting
garage rental
gift wrapping
guarded transport of valuables
hauling
horse rental
ice-breaking
launching of satellites for others
lighterage services
marine transport
message delivery
rental of motor racing cars
motor coach rental
rental of navigational systems
operating canal locks
packaging of goods
parcel delivery
parking place rental
passenger transport
physical storage of electronically-stored data or documents
piloting
pleasure boat transport
porterage
railway transport
railway coach rental
railway truck rental
refloating of ships
refrigerator rental / frozen-food locker rental
removal services
rescue operations [transport]
river transport
salvage of ships
salvaging
shipbrokerage
sightseeing [tourism]
stevedoring
storage of goods
storage / warehousing
storage information
rental of storage containers
taxi transport
towing
traffic information
tram transport / streetcar transport
transport by pipeline
transport
transport of travellers
transport and storage of waste / transport and storage of trash
transport brokerage
transport reservation
transportation information
transportation logistics
transporting furniture
arranging of travel tours
travel reservation
underwater salvage
unloading cargo
vehicle breakdown assistance [towing]
vehicle rental
rental of vehicle roof racks
rental of warehouses
water supplying
water distribution
rental of wheelchairs
wrapping of goods
Related Classes
Legal & security services under the Trademark Class 45
Medical & Veterinary Services under the Trademark Class 44
Food concerning Services under the Trademark Class 43
Science & Technology Services under the Trademark Class 42
Education & Entertainment Services under the Trademark Class 41
Material Treatment Services under the Trademark Class 40
Telecommunications Services under the Trademark Class 38
Construction Repair services under the Trademark Class 37;
Insurance & Finance services under the Trademark Class 36
Advertising & Business Services under the Trademark Class 35
You must indicate the correct class at the time you are registering a trademark. If you list the incorrect class, you must start the application process over.
Why to appoint Trademark Agent in UAE?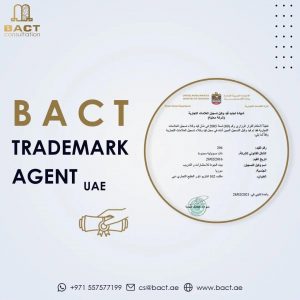 Speak to one of our experienced trademark attorneys to get started with your application today.
We recommend allowing an experienced attorney to manage the paperwork and deadlines when registering a trademark.
Registering a trademark in the UAE requires extensive knowledge of the Trademark laws in the UAE and knowledge of the Nice classification List to select the right trademark class under which trademark falls to satisfy and protect trademark applicant needs.
Trademark applicants should be engaged in application procedures established by the UAE Ministry of Economy to register the trademark successfully and to deal with all documents related to trademark registration and notifications to competent authorities.
Furthermore, in addition to detailed knowledge of the law, the applicant needs to know Arabic because when filling initial trademark applications, the form must be completed in English and Arabic, also the brand logo and trademark meaning should be approached bilingually. Properly filling application is time and cost-effective condition to be followed by the applicant.
Appointing the trademark agent in UAE has other benefits for not only helping businesses to register their trademarks in the UAE but also advising businesses on how to protect brands from their competitors and counterfeit products in the UAE market.
The role of trademark agents in registering the trademarks is necessary as in the UAE is mandatory for foreign businesses to appoint a trademark agent. perhaps one of the most important items in the protection of his brand that the applicant cannot do alone because he is not sufficiently informed and thus risks missing the complaint process against a third party.
Our trademark consultant will help you search for and classify the goods and/or services you need to apply to register your Trademark.
To appoint trademark agent in UAE visit bact.ae
BACT is the top-class Dubai based Trademark Agent and Business Setup Consultant in UAE with strong business networks in all GCC countries and Europe.
To appoint trademark agent in UAE visit Trademark registration or Trademark protection in UAE, visit bact.ae
A modern business environment, quick, high-speed, online professional services create perfect business clime to meet every aspect of our service requirements. Our team counts talented professionals across companies' main business lines namely Trademarking, Copyright, Anti-Counterfeiting, Company Formation, Business Consultation, Agreements, Education and Training advancing our presence locally and internationally in the last 10 years.
We offer trademark services listed below
✔Trademark Search
✔Trademark Monitoring
✔Trademark Registration
✔Trademark International Registration
✔Trademark Renewal
✔Trademark Cancellation
✔Trademark Mortgage
✔Trademark Modification
✔Trademark Agent Change
✔Trademark Ownership Transition
✔Trademark Ownership Modification
✔Trademark  Logo Modification
✔Trademark Products Modification
✔Trademark Objection & Grievance
✔Trademark Document Services
For more information about international trademark services please visit  bact.ae
Our Contacts
Phone+97144470880
Fax: +97144470881
Mob: +971557577199
Email: cs@bact.ae
Web:  bact.ae